Health > Health Information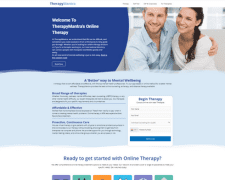 Therapy

Mantra 
Ratings On Other Platforms
Based on our research, TherapyMantra has generally positive reviews, with an average rating of 4.4 stars out of 5 on various review platforms. This suggests that many users have had positive experiences with the platform and its mental health professionals. Some reviewers have praised the convenience and accessibility of the platform, as well as the professionalism and expertise of the mental health professionals available through the service. 
Positive reviews (last 12 months): 87%
How would you review TherapyMantra?
I wont be able to afford other sessions but I just want to thank Kamya for listening to me. she gave me relief.
I had an amazing Experience with TherapyMantra. Therapists are very friendly and helpful. They provide therapy at a very reasonable price.
I took sessions from therapists and it was really an helpful counseling from TherapyMantra. I recommend it to everyone who is suffering depression and anxiety
Session was really good , feel improvement and it was pretty good
Session was good , it was really helpful for me
TherapyMantra is a great platform to seek different types of treatment For diseases. The staff is nice and humble.
It was a good service , affordable and it was a great experience, it is really helpful for me.
I attended only one session. It was very helpful because I know it takes time. She is, however, supportive and understanding. I like the way she listens to me.
My session was good, Aheesha mam was friendly during the session, I feel at ease now and Also I'm able to open up about my issues easily.
My therapist was taking session with professionalism , I'm very much satisfied with the services . my first trial session was very good & it was very helpful for me that's why I opted for 1 month plan. At first I was not sure, I thought may be this is a fraud but after taking one session, I was able to manage my things and I'm happy that we can schedule the session by own .
I found "TherapyMantra" very useful for me. I just took the therapy session & in only one session all the impulsivity & my jumbled thoughts solved. I am so happy after the session that's why after weekly plan I opt for the monthly plan. I have tried many other therapy apps online & offline but TherapyMantra is the one platform I was needing, Thanks a lot for the amazing experience in very reasonable price. I would give a five star out of five.
Okay, at the beginning of the sessions, I was nervous that Aheesha was from a different culture and I thought it would be difficult to relate. Yet, she proved the opposite of that and made me feel safe and understood in every aspect. Talking to her was like talking to a friend with a knowledge of psychology. Therefore, the intellectual part and the way she conveyed her advice was beautiful and simple for me understand. Aheesha is an amazing person before being a clever therapist. I'm greatly thankful for her.